You would think, in the current era of connectivity, international money transfers wouldn't be a challenge. There's a social media app for even the most niche circles of society, and staying in touch has never been easier. The same should go for financial transfers, right?

Most of the time, yes. It's never been easier to transfer money internationally. If you're looking to find the cheapest way to send money online, you're in luck. Long gone are the days when the paper check reigned supreme. We're probably getting close to a time when newer generations won't even know what to do with a checkbook. However, just because it's never been easier, doesn't necessarily mean it's entirely painless.
The question most often featured when sending money internationally isn't 'how?', but 'how much?'. Finding the most cost-effective option can be difficult. This point is especially true when there seem to be a thousand different ways to achieve the same goal. Many make the mistake of going ahead with the most comfortable option, but this can incur a lot of costs. Don't be one of those people.
You can obtain a free quote for sending money abroad from our #1 recommend provider, Currencies Direct, by completing the below form.
What You Need to Consider To Transfer Money Internationally
Our goal is to become your one-stop hub for all things international moving. You can compare moving companies and find useful resources to assist you when preparing for an international move.
HIGHLY RECOMMENDED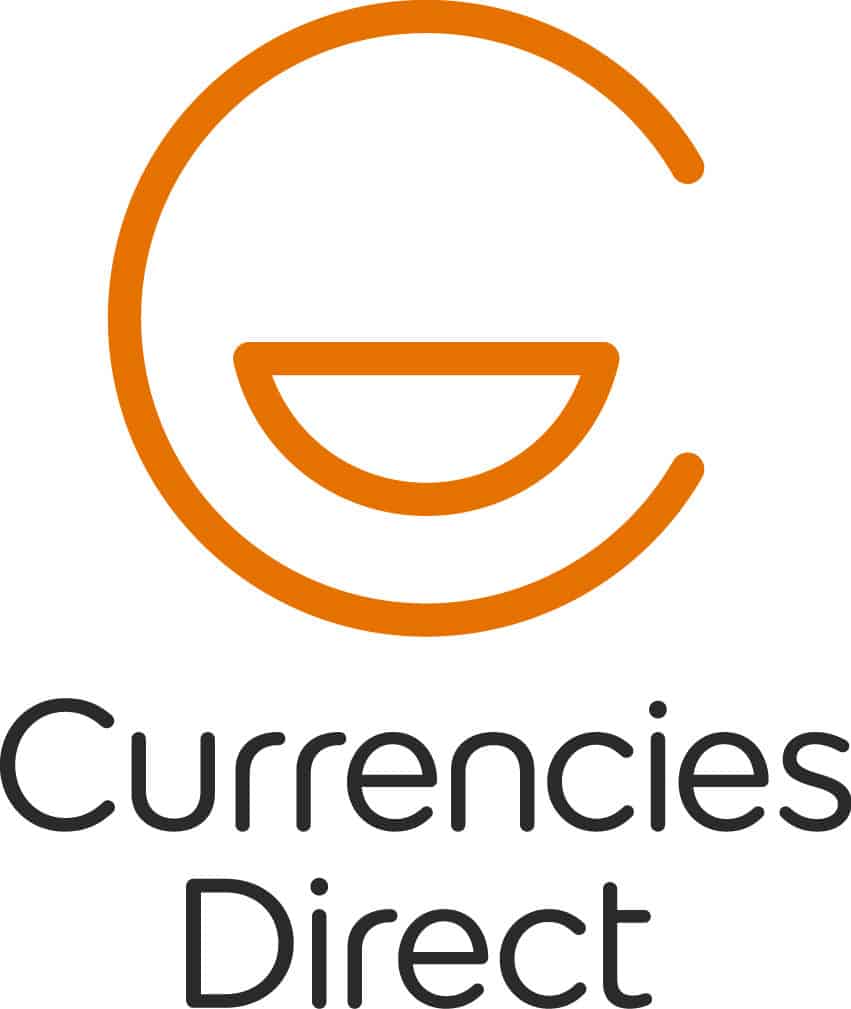 Features:
Highly competitive exchange rates
No transfer fees
Personal currency expert support
You can obtain a free no-obligation quotation from our recommended provider for large transfers.
Familiarizing yourself with what goes into an international transfer is step one. You can't save money if you don't understand the process. The two most significant factors you need to take into account before embarking on any transfer are:
Transfer fees
Exchange rates
Either one of these can eat into the amount you're moving. Some currency transfer companies thrive off how fast customers can be to ignore hiked rates. You want your money to go where you need it to be ASAP, so you're liable to pay more than necessary. Companies know this and take advantage of it. Pay attention to the small print.
Transfer Fees
Before committing to any service, you need to check out their transfer fees. They may be a lot higher than you initially expect. If you go ahead with the transfer, there are no refunds on the attached fees, so you need to know what to expect. Luckily, this information is often readily available.
Most transfer fees are either a flat fee or a percentage of the amount you're transferring. The amount you're moving will define which option is the most economical for you. Flat fees lend themselves well to more massive amounts, whereas percentage arrangements are better for smaller transactions.
Exchange Rate
If you're transferring money internationally, you will likely need to exchange it into another currency. With this in mind, you need to pay attention to exchange rates. It's all well and good finding a low transfer fee. However, if the exchange rate is significantly weak, you're still losing out monetarily. What you need to look out for is a provider that operates with a low exchange margin.
Exchange rates fluctuate dramatically. This volatility has been especially true in recent years, given the state of global politics. Also, the competition between companies can drive wide gaps between exchange rates.
A common myth is that exchange rates are identical from one company to another, or one bank to another. This is not the case. Finding the best exchange rate can significantly improve how much money you save.
Which Countries Are the Cheapest for International Transfers?
As you're probably already aware, the transferring of money internationally varies enormously depending on the countries involved. Where you're sending funds from, and where those funds go, can significantly impact how much money you end up with at the end.
One of the easiest ways to decipher the anticipated costs is to consider how up-to-date a country is with their internet banking. This option is often the cheapest way to send money.
It's also crucial that you recognize the currency specialties of specific companies. A company might offer the most excellent rate on the market for one particular currency pair. However, that doesn't necessarily equate to them having the most outstanding rates for all currency pairs. Such an instance is highly unlikely.
Unless you need to send money in a pinch, doing your research is imperative to securing the best deal. All of that begins with knowing which countries, generally speaking, can offer you the best rates. The cheapest countries for international transfers are:
There's a common theme among these countries: they have all but made online banking the norm. While traditional check clearing is still widespread among some of the population, more and more are turning to the internet to handle their money. To some, anything but online banking is positively archaic. This demand benefits you directly, with intuitive ways to move money more efficiently.
What Requirements Do You Need to Meet?
Performing international transfers is not a single-person operation. You must shop around to find the best transfer fees. However, it's also imperative that you remember banks and transfer services can reject your request if you don't meet the grade. Knowing these requirements, and planning ahead of time, can save you from a lot of wasted effort in the long-term.
While the expectations of a bank or service will vary significantly between establishments, there are some common themes throughout them all. We've done our best to highlight some specific ones.
Proof of Identity Documentation
Arguably one of the most critical parts: you need to prove who you are. You should make sure you have the necessary documents to verify your identity before considering international transfers.
The good news is, if you intend to use a bank, you're already registered with them and won't need to worry. It's usually only an issue if you're using an external service.
Acceptable identification varies from one place to another. The most commonly accepted identification documents include:
Driver's license
Passports
Proof of address
If you plan on moving a massive transfer, you may need multiple documents for verification. Large transfers typically cover amounts exceeding $10,000.
Transfer Limits
Speaking of large transfers, let's talk about transfer limits. Various providers place caps on how much money they let you move internationally at any one time. These caps can relate to the amount you're moving or the frequency at which you transfer money or a mixture of the two. Regardless of how the limits present themselves, they aren't insurmountable.
One of the easiest ways around higher transfer limits is by visiting your bank's local branch. Banks are far more likely to trust you when you visit in person with your documentation present.
If you are making frequent international transfers, you could also benefit from discussing increasing your account's limit over time. The limits on apps and other services vary enormously. In some instances, you may need to surrender to sending multiple smaller transfers as opposed to one.
What Is The Best Way To Send Money Internationally?
So, you know what you need to move money internationally, it's time to decide on a service to use. Many people use their bank to transfer finances, mostly because they believe this method is more secure. It's also highly convenient. However, you might be paying far more than you need to if you go with your bank and overlook other options.
When looking for the cheapest way to send money online, you need to diversify your thinking. We've compiled a list of the cheapest ways to send money internationally. Just take your pick!
PayPal
One of the longest-running cash-transferral apps around, PayPal's longevity is a testament to its efficiency. Millions of users around the world use PayPal to move their money internationally, almost instantaneously. Of course, this instant transfer comes at a price. The currency conversion fees aren't the best on the market, and there is a fixed transfer fee on top.
However, these fees tend to be on the smaller side, provided you're moving relatively small amounts of money. As the transfer amount increases, so do the costs, so be wary of that. If you're moving less than $500, then PayPal is one of the most economical options out there.
Google Pay
One of the newer cash apps on the block, Google Pay has already established itself as an easy way to move money. As its name suggests, it's a service owned by Google, meaning if you already own a Gmail account you've already got a head start.
Google Pay easily integrates with your existing account so that you can start sending or receiving money almost immediately. This app includes the integration of your Google contacts, so you don't need to go through the lengthy process of adding everyone.
The service is entirely free, which is a huge plus. The only limit is on the amount you can send, which sits at $9,999 per transaction. Still, that's a pretty high limit. If you need to move more than that via a mobile app, break the total amount up into smaller transfers.
In terms of security, Google Pay stands out as it's fully FDIC insured, meaning your stored funds are secure. It generally offers the same protection a traditional bank would, just in a modernized format.
TransferWise
If the money you want to move exceeds the $10,000 advisory limit, it might be worth looking further afield. TransferWise allows you to transfer money internationally from 70+ countries, all without any high percentage fees eating away at your total. This economic efficiency is especially true if you're trading in the more popular currencies such as AUD, GBP, EUR, USD, CAD, and JPY.
They're also strict on security. The higher the amount of money you're moving, the more proof of identity the institution is going to ask of you. These increases in security occur incrementally based on how much you're sending.
If a large amount gets sent from your account without due verification, TransferWise may lock your account to prevent any further illegitimate transfers. Security checks can be frustrating, but they're far less troublesome than losing thousands from a fraudulent transfer.
OFX
If you need to send a high amount of cash internationally, OFX is a good option. It supports international transfers in 91 countries via its website, phone line, or mobile app. There are no transfer fees, and their mark-up rates are much lower than their competitors. The only catch is that the minimum amount you're sending must exceed $1,000.
OFX has been around since 1998 and has processed $100 billion in that time. It's a behemoth with longevity, that isn't going anywhere soon. Just note that if you need a quick transfer, OFX won't necessarily be able to help. There's no option for same-day transfers. Most financial transactions take a few days to process, but given the amount OFX can move, this is understandable.
Our personal favorite: Currencies Direct makes the process of sending money internationally easy, while simultaneously offering you some of the best rates. We aren't the only ones that think so highly of Currencies Direct, either. On TrustPilot, they've earned a five-star rating, which is no easy feat.
How did they earn this praise? A combination of excellent features centralized in one location with global access. Currencies Direct connects you to the most countries of any service on this list, with an astonishing 170 on their platform. Also, you can enact same-day transfers for when you need to send money stat. There are also no hidden fees with Currencies Direct, making it the cheapest way to send money. Everything is upfront.
They've also been around a while, too. First opening in 1996,  Currencies Direct (read our full review) established itself as one of the very first specialist currency brokerages. Since then, it's only grown. Last year Currencies Direct oversaw $115 billion worth of transfers.
Frequently Asked Questions: How to Send Money Overseas
What is the cheapest way to send money abroad?
There is no precise answer to this question. It depends on a variety of factors, including whom you're sending the money to, where you're sending it from, and how much you're sending. Hopefully, by following our suggestions above, you can find the cheapest service for you!
Speaking generally, what is the cheapest way to send money online?
Services that specialize in money transfers are the best option, more so than your bank or a generalized cash app. Of course, it all depends on the factors mentioned above, but services that revolve around money transfers often offer the best deals, as they want your business!
What are some of the fees I should expect from money transfer services?
There are a few fees you need to note. Look into all of them diligently before committing to a service, so you can be sure you're getting the best deal. Some we've already mentioned, and some may not apply, but the following are the most common:
Exchange rates — while technically not a fee, every service offers different exchange rates. Pay attention to them and make sure you aren't getting ripped off by an unfair conversion.
Fixed transfer fees — almost every service has these. They're the basic price you're going to pay for using their services. Most companies are upfront about their rates, so make sure you familiarize yourself with them before proceeding. If a company isn't upfront about its fees, that's a big red flag.
Commission fees — some firms will charge a commission fee on top of the fixed fee. This commission is usually for larger firms that deal with higher amounts of money than your typical transfer.
Receiving fees — depending on where you're sending the money, there may be a fee for receiving. To avoid any nasty surprises, make sure to double-check whether your money's destination charges you for the privilege.
Isn't it easier to use my bank for international transfers?
Totally! The easiest option is using your bank — but it's the most expensive. Fees are often much higher, and exchange rates are usually relatively poor. Many banks rely on their convenience to dupe customers into paying over the odds for their transfers. Don't be one of them! Use an external service, and you may save a lot of money in the long-term.
In Summary
There are numerous ways to send money internationally. Some are more expensive than others, and much of it comes down to individual circumstances. For us, the clear winner for the cheapest way to send money is Currencies Direct. It hosts millions of transfers online and internationally each year, with no sign of slowing down. The key to saving money in anything is by diversifying your thinking. Banks aren't the only way to deal with money.
Matt is a veteran of the moving industry, a recognized moving expert and is the founder of Mover Focus. Matt holds a Bachelor of Commerce (BCom) majoring in Finance and Marketing and Bachelor of Arts (BA) majoring in Economics and History. He also has completed the EiM (Essentials in International Moving) course from the FIDI Academy. His advice has been featured in Reader's Digest,  Yahoo Finance,  MSN Money, Business News Daily and The SpareFoot Blog Go. Read more.