Are you looking to transfer money overseas? Whether you have relatives who need the funds, or you're giving money to a business partner that lives abroad, an international money transfer can be a lifesaver.

One company becoming more prevalent for clients wishing to transfer money overseas is Currencies Direct. But is the company reliable? Are there money transfers secure?
Our Currencies Direct reviews go in-depth, detailing the services of the company, what distinguishes the business from its competition, like TorFX or XE, the pros/cons, and what the customer reviews have to say. At the end of this review, you'll have all the information you need about whether Currencies Direct is the overseas money transfer service for you.
Review Quick Summary:
Currencies Direct, a leading international money transfer provider, boasts an impressive 4.9 out of 5 stars on Trustpilot, reflecting its excellent reputation. Of the thousands of reviews, 81% have awarded the service a perfect 5-star rating, while 10% provided a 4-star rating. A mere 4.6% rated Currencies Direct at one or two stars. Satisfied customers frequently praise the platform's responsive customer support, user-friendly interface, competitive exchange rates, and efficient transaction processing.
You can obtain a free no-obligation quote from Currencies Direct by completing the form below:
Currencies Direct Ltd Overview
Currencies Direct opened in 1996, and ever since, it has aimed to change the process of transferring funds between countries. With four languages to chose from—English, French, Norwegian, and Swedish—many individuals have the option to send money instantly to another country.
The company has offices from Spain to Mumbai, all equipped to help you transfer cash from one country to another. With a team of over 500 currency brokers, someone is always available to help you, no matter the time of day. With a simple online registration, you could transfer money as an individual, a company, or an internet seller.
| | |
| --- | --- |
| 🏛️ Established | 1996 |
| 🌎 Clients | Global |
| 💱 Currencies | 40+ provided |
| 🏢Offices | London, Spain, France, Portugal, USA, South Africa and India |
| 📱 Platforms | Retail presence, phone service, online service and mobile app |
| ⚖️ Regulation | Authorised by the FCA as an Electronic Money Institution (EMI) |
| ✔️ Credit Rating | Level 1 credit rating with Dun & Bradstreet (Highest Possible) |
| 🏆 Awards | MoneyAge award (three time winner of 'Money transfer Provider of the Year') |
| 🌟Reviews | Excellent 4.9/5 from 9,169 reviews on Trustpilot |
| 💰 Fees | No transfer fees |
| 📈 Trading Volume | 550,000 payments last year, trading £7.5bn in currency in 2021 |
| | |
Our goal is to become your one-stop hub for all things international moving. You can compare moving companies and find useful resources to assist you when preparing for an international move.
HIGHLY RECOMMENDED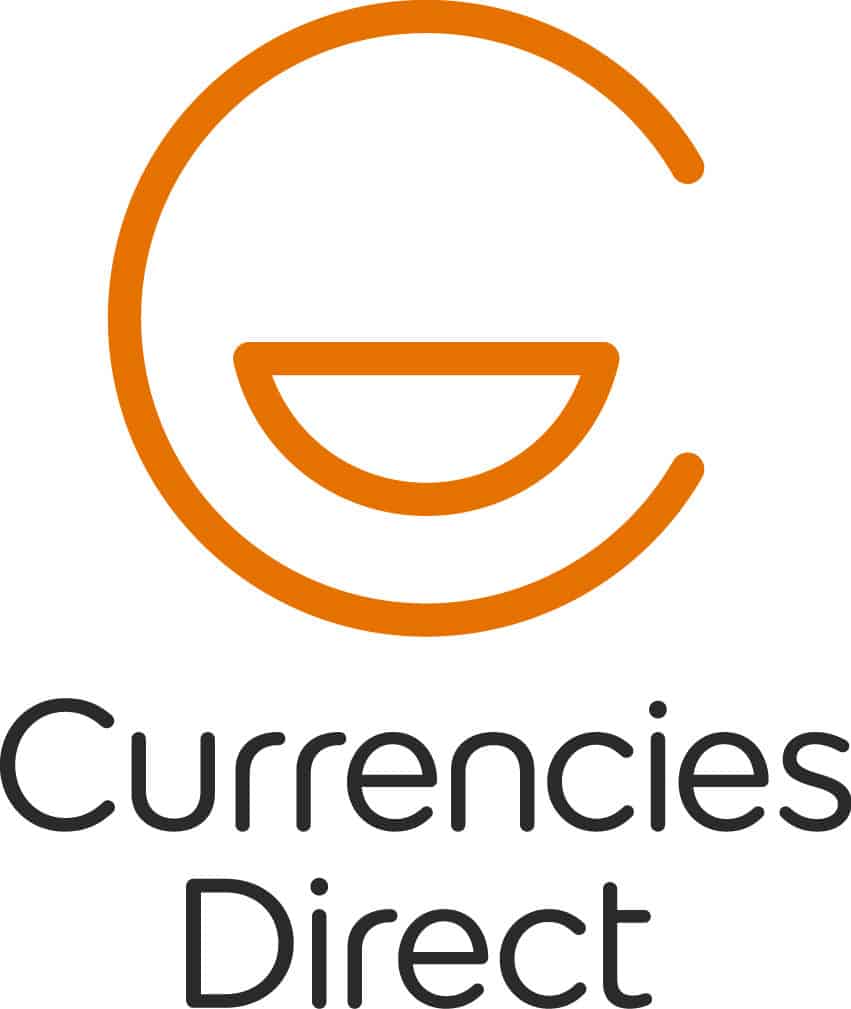 Features:
Highly competitive exchange rates
No transfer fees
Personal currency expert support
You can obtain a free no-obligation quotation from our recommended provider for large transfers.
Currencies Direct Individual Services
The money transfer company has a variety of options that you can choose from when you use their website, app, or make a claim over the phone.
Individuals can  move  up to $25,000 from one currency to another. The app also lets you access live rates, buy money to use for later, and set alerts.
Currencies Direct aims to make overseas fund shifting as simple as possible. The first option to choose from is a forward contract. With this choice, you set the exchange rate and pay for the transfer, then get that exact charge sometime in the future. You can purchase these contracts up to a year in advance.
Next is a limit order. For those who like defined boundaries, you can go with this option. You'll only be able to transfer funds when the exchange rate aligns with a defined threshold.
With a stop-loss order, you also set a threshold that defines minimum currency exchange to limit your transferring. In this case, currency exchange happens if and only if the economy meets that minimum currency exchange threshold.
If you want, you can combine any order types with Currencies Direct. With a combination, you can take advantage of favorable exchange rates and hedge against rate movements. You can also:
Make regular transfers
Get travel money through the company partner WeSwap
Take advantage of the free resources available on the Currencies Direct website
Currencies Direct Business Services
Commercial businesses have exclusive advantages that come with using Currencies Direct. First and foremost, multiple and batch payments are available for companies that need to make recurring payments to employees and suppliers around the world.
Online sellers can utilize smart currency conversion functionality to manage their international collections and payments. Through your Currencies Direct business account, you can also manage outgoing payments. You can hold accounts in multiple countries and schedule conversions if you need to, as well.
One of the customer support teams also can help with risk management when transferring money. Small and large businesses will receive the same treatment from one of their representatives.
Smooth Transfer, Competitive Exchange Rates
Currencies Direct has a partnership with Barclays Bank to help facilitate easy transference. This partnership means competitive exchange rates.
If you are a dedicated patron of a bank that has a better rate, you can stick to using your service. But, if the bank you use has a higher charge, you could also benefit from collaborating with the third-party cash shifting company.
Keep in mind that services vary by nation, so currency transfers offered in Spain will differ from those allowed in India.
Flexible Transfer Dates
If you prefer to make overseas transfers without a strict timeline, consider using Currencies Direct. The company's status as an EMI allows you to keep your e-cash in the account for an undetermined amount of time. You are also free to use that money without limitations.
If you're looking for a home overseas that lets you take your time, Currencies Direct might be the solution. Banks usually have a deadline for using the money that you've transferred, but Currencies Direct does not charge additional fees for funds sitting in your account.
Currencies Direct Accessibility
Currencies Direct specializes in the transference of money from one country to another. With the company, you can exchange funds for a rate lower than the market price of most currencies. Whether in person or online, you can send or receive money 24/7.
The company has seven offices in:
UK
India
Portugal
South Africa
Spain
USA
Most offices have a local schedule, depending on the community they serve. For example, the US office is open from 9 AM to 5 PM following Eastern Standard Time while the Indian building is open from 10 AM to 12:30 AM, heeding Indian Standard Time.
You can visit the business website to find your local Currencies Direct office.
After-Hours Money Transfer
If you want to send money overseas after the hours of your local office, Currencies Direct has a website and an app that you can access.
For those who need cash moved quickly, the business has a FAQ section on their website. On this webpage, you'll find all the most common questions which let you streamline your transfer process.
On the app or website, you can shift up to $25,000 of whatever funds you choose whenever you want.
A section of the online site allows you to keep track of the transfer recipients and check the statuses of open shifts.
Free Quotes and how to log in
If you use their website, you can get a free quote. The team needs the following information:
Personal or commercial transfer
How much money you'll be moving
The currencies you're transferring
From there, you fill out your name, email, and phone number. The Currencies Direct team will get back to you as soon as they can.
Before starting a claim with the company, fill in your information to get a free quote. The estimate takes approximately fifteen minutes, and the team tailors the content to suit your needs.
Currency News and Updates
Along with its transfer services, Currencies Direct offers a news webpage to give you updates on currencies around the world.
Here, you'll also find articles about how Brexit could impact you, whether or not you reside in the United Kingdom, and other vital currency news.
If you are looking to purchase property, the company offers guides to a variety of countries from Portugal to the United States. The company will get you into contact with realtors, give essential tips and tricks, and compare property prices between countries.
What Makes Currencies Direct Different from its Competition?
Currencies Direct is the only third-party money transfer service that has a considerable retail presence, both phone and online options, and a mobile app.
The FCA, Financial Conduct Authority, authorized the company as an Electronic Money Institution. The reference number for the third-party fund shifting company is 900669, meaning that you can check in to see regulations of Currencies Direct.
The categorization as an EMI allows Currencies Direct to issue electronic money. eCash entails funds stored on a computerized device such as a smartphone, computer, or tablet. EMIs also have permission to provide IBAN accounts, payment cards, and e-wallets. You have options when it comes to shifting your money.
Because of Currencies Direct's status as an Electronic Money Institution, you can keep your online funds in the account for as long as you need it. If you need to make monthly payments overseas, you'll want to go through an EMI. You'll be able to use the money on your account as you wish without having limitations.
Dun & Bradstreet, a commercial data analysis company, marked Currencies Direct with a level 1 credit rating. Level one is the highest a business can acquire. With this ranking, you can be sure that shifting your money through the company will come with the lowest risk possible.
Currencies Direct also allows you to transfer cash overseas, whether you are an individual or a company. You get a segregated bank account so that the funds you want to shift do not interfere with the rest of your money.
The segregation also means that Currencies Direct will be unable to dip into your funds if the business should fall into hardship. The company works with over 40 currencies, giving you a variety of options with transfers.
Currencies Direct Reviews from Customers
Currencies Direct reviews come from real customers who have used the services in their everyday lives. The clients are either first-time users or have been loyal to the business.
The company has a plethora of reports on Trustpilot, a highly trusted platform that allows users to collaborate on inspections. Currencies Direct regularly asks their clients for reviews on this program, whether the customers had satisfying or unsatisfactory experiences. The reviewers chosen are from a variety of countries.
Of the over seven thousand reviews on the platform, 98% of them listed the company's services as excellent with no mention of any problems. Customers always name the employee that assisted them. The clients also raved about how simple the company made the process. A lot of the reviews mentioned that employees explained the transfer steps to the individuals, so there was no unnecessary confusion.
Though the majority of the writings were positive, there were a handful of negative reviews. The clients who had a poor experience talked about unhelpful employees with limited English. There were a few reviews that showed Currencies Direct as giving incorrect exchange rates. However, the company reads and responds to the majority of their negative reviews with promises to change.
If you have any issues with transferring money or verifying the exchange rates, you can always contact the helpful customer support team. You can contact the company directly via email, phone, or at your local office.
Currencies Direct Pros
Here are the best parts of the money transferring company:
Great rates whether your transferring smaller or larger sums of money internationally
You get an account manager specifically assigned to handle your case
You can transfer up to 25,000, no matter what time it is, through the mobile app
Due to having teams in various countries, you get local specialized expertise
The company will help you handle purchasing a house in a foreign country
No additional fees and the company will notify you ahead of time of any charges
You can access your account from a computer, tablet, or phone
The company offers multiple money transfer services
You get a free estimate when you file a claim
The online platform is comprehensive and easy to access
Ranked #1 by Mover Focus as the best way to send money abroad
Currencies Direct Cons
Currencies Direct is a business dedicated to making money transferring as simple as possible, but it is not foolproof. Let's go over what the organization can improve.
There are no local options for recipients to pick up money in cash.
You can only transfer $25,000 via the mobile app.
For specific customer experiences, you can head over to Trustpilot, a review platform, to see what individuals say. Currencies Direct has an active reviewer following and frequently checks in with customers to improve their business.
Verdict: Why Should You Use Currencies Direct's Services?
If you want high-grade quality customer service, transfers without fees, and live rate updates and alerts, then you should use Currencies Direct.
In our Currencies Direct reviews, we found the service helpful for individuals and businesses alike. It has helped numerous users buy property overseas, buy currency in advance, create rate alerts, and check live rates on the go.
Companies can also utilize the services of the Currencies Direct team. If your business needs local collection accounts, batch payments, risk management tools, and improved control over your account, the company works with you.
Visit Currencies Direct today to work with a team of professionals when transferring your money overseas.

Matt is a veteran of the moving industry, a recognized moving expert and is the founder of Mover Focus. Matt holds a Bachelor of Commerce (BCom) majoring in Finance and Marketing and Bachelor of Arts (BA) majoring in Economics and History. He also has completed the EiM (Essentials in International Moving) course from the FIDI Academy. His advice has been featured in Reader's Digest,  Yahoo Finance,  MSN Money, Business News Daily and The SpareFoot Blog Go. Read more.