No matter why you need to transfer funds internationally, you first have to know how to. A wire transfer of 1 million dollars will be a different process depending on if you use your local bank or a wire transfer service. And while your bank seems like the obvious option, you can likely find better exchange rates elsewhere.
So, how do you transfer large amounts of money internationally? Keep reading to find out.
Quick Summary:
Best option for transferring from USA, Canada, UK and Europe: Currencies Direct
Best option for transferring from Australia and NZ: Send 
Beginner Tips for Large Transfers

Before diving into the meat of the article, we'd like to offer some beginner advice. Here are a few tips to consider before transferring money overseas:
Beware transfer limits: Certain providers will limit daily and monthly transfers. Select a service that has limits or no limits, we recommend Currencies Direct.
Read up on tax laws: Different countries mean different tax laws. You or someone you send funds to could be required to file taxes. Keep yourself out of trouble by knowing tax requirements ahead of time.
Dealing with sanctions: Contact a professional to help navigate wire transfers to countries under U.S.-imposed sanctions.
There's risk involved: Your money is regulated by federal agencies. These agencies vary between countries, and some endeavors are riskier than others.
Now that we've summarized the most crucial elements let's dive into how to transfer millions of dollars internationally.

Our goal is to become your one-stop hub for all things international moving. You can compare moving companies and find useful resources to assist you when preparing for an international move.
HIGHLY RECOMMENDED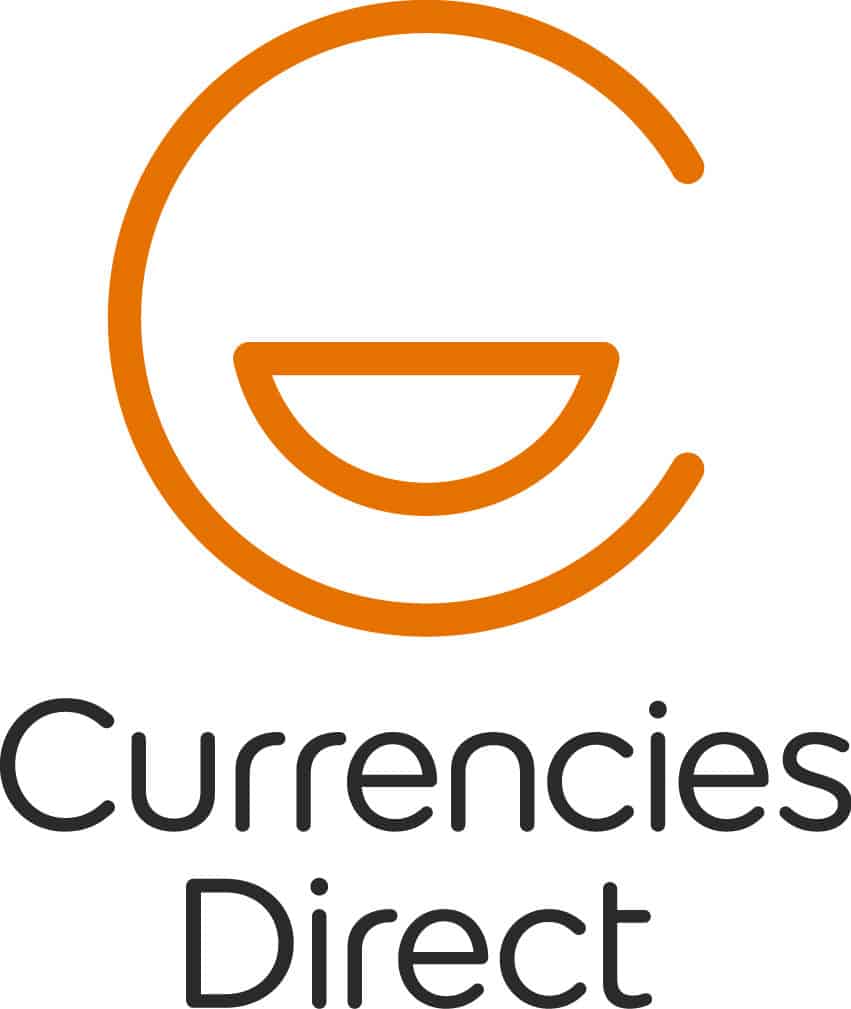 Features:
Highly competitive exchange rates
No transfer fees
Personal currency expert support
You can obtain a free no-obligation quotation from our recommended provider for large transfers.
Best Ways To Send Millions of Dollars Abroad
To make sure that transferring millions of dollars across borders goes smoothly and is successful, think about these top methods:
Specialist Money Transfer Providers: Use reputable companies to send money internationally. These companies often have better exchange rates and lower fees than traditional banks. They also make sure that transactions are safe and happen on time.
Bank-to-bank transfers: Use a reputable bank's international money transfer service, which is safe and has good exchange rates. Before starting the transaction, you should look into any transfer limits, fees, and transfer times.
Wire Transfers: If you need to move money quickly, consider wire transfers through well-known financial institutions like SWIFT. This network lets you send money quickly, safely, and reliably, but the fees are higher than with other methods.
Transactions through the Automated Clearing House (ACH): Choose ACH transfers to save money and time, especially for transactions that happen often. Check to see if the banks that are sending and receiving the money are compatible since not all banks can handle ACH transactions internationally.
Cash-to-Cash Transfers: To send cash to cash quickly and easily, use a money transfer service like Western Union or MoneyGram. Keep in mind that fees may be higher for large amounts, and make sure that both the sender and the receiver can go to local branches so that the transaction goes smoothly.
Transfers based on blockchain: Use the new blockchain technology to quickly and safely move millions of dollars. Platforms like RippleNet and Stellar make it easier and cheaper to send money across borders than used to be.
Should I Use My Local Bank?
Your bank is certainly an option, but it'll cost you. The exchange rates are typically weaker, while the associated fees are higher.
On top of the fluctuating costs, it takes much more time to wire transfer $1 million+ overseas. If you're working under a strict time limit, this is a problem.
And finally, not all banks can transfer money to every country. To determine if your local bank is right for you, call about their international transfer services specifically for large sums of money.
Using a Money Transfer Service
Specialized money transfer companies, like Currencies Direct, are another choice for overseas transfer. You have the same security provisions as your standard bank, but wire transfer services are generally cheaper and faster.
Large, trusted services allow users to track money through the process and offer 24/7 online and phone support should you have questions.  Currencies Direct even offers dedicated personal account managers for personalized help.
Compare High Limit Transfer Services
Before deciding on a high-limit transfer service, you should research your options.
Ideally, you'll want to examine companies for:
Exchange rates: Exchange rates vary — choose a company that will give you the best deal.
Lowest fees: You can find services with low fees or even none at all.
Security guarantee: Go with a company you can trust, especially when you wire transfer $1 million+.
Quality customer service: Sending large quantities of money is nerve-wracking. Choose a service with the best customer care, so you feel comfortable asking questions.
Quick transfer speeds: When your money is involved, you shouldn't have to deal with the anxiety of waiting. Many companies know how to transfer millions of dollars internationally within minutes.
How Important is the Exchange Rate?
Considering you'd like to send millions, a reasonable exchange rate is essential. Minor differences in rates between companies can either save or cost you thousands.
Here's an exchange rate example:
Company X quotes you at 1 USD = 0.990 EUR, and Company Y quote your rate at 1 USD = 0.995. It's only a half a cent difference, but on a wire transfer of $1 million? It's a $5,000 difference.
Have Time? Try A Limit Order
If you're not pressed for time, you can use a limit order to find the best exchange rates. Limit orders allow you to target your ideal exchange rate via a broker or service, which monitors rates 24/7.
Once the service targets the rate, they'll reach out to complete the transaction. The fees flow into the company, usually paying for the time it takes for institutions to fill out international transfer reports.
You may find services that charge nothing, but make sure you're still looking at exchange rates. Both service fees and exchange rates should factor into your final decision.
Money Transfer Fees
Money service providers charge fees to increase their profits. The costs account for the time a company spends filing paperwork and filling out forms related to international transfers.
As mentioned, companies offering fee-free services may make up the difference with poor exchange rates. To ensure you're getting the best deal possible, you must examine both factors.
Taxes on Foreign Accounts
If there's one thing to take away from our guide on how to transfer millions of dollars internationally, it's the following:
Inform the IRS.
U.S. citizens with offshore bank accounts must submit a Report of Foreign Bank and Financial Accounts (FBAR) alongside traditional tax statements. This must be completed by April 15th each year if your offshore account holds $10,000+ at any time. This still applies even if your account doesn't presently reflect this balance.
So, yes, if you momentarily send large quantities of money for a quick turnaround investment, you still must inform the IRS. Failure to comply can result in severe penalties, even if it was an accident.
Forgetting to do so will result in a 5% fine of the involved asset value. But, if you wait until the IRS launches an investigation against you, you're looking at up to a 50% fine.
When filing taxes, you'll also need to factor in offshore business or properties in your name.
Additional Tax and Legal Considerations
As you've gathered, a wire transfer of 1 million dollars or more requires additional planning on your end. The extra prep is even more true for complicated situations or countries with special requirements. In such instances, it's best to work alongside a tax professional or financial lawyer to ensure you do everything correctly.
Here are a few special considerations that may require additional assistance:
Accidental tax evasion: Having offshore funds and businesses is a practical way to restructure asset ownership when facing lawsuits or at-home debt issues. However, if you fail to file the proper tax form, you'll face serious consequences.
Gift taxes: If you're sending $15,000 or more as a gift for anyone outside your spouse, you must also file a gift tax return. In certain countries, the recipient may have to pay taxes as well.
Property ownership: Certain countries require you to own property to open your offshore account. This can add up — you'll have to purchase a property and pay for possible registration fees associated with setting up your account.
Frequently Asked Questions
How Can I Ensure a Secure Transfer?
Search for a provider that guarantees bank-level encryption. In addition, only send funds to people you personally or professionally know.
Be aware of phishing emails. If you receive an email or text requesting money, don't immediately click it. Reach out to the contact to determine the legitimacy of the request. If everything checks out, head to the provider website to finish the transaction.
Will the IRS Discover if I Don't Report Large Transfers?
Yes. Money transfer services and banks all report large transfers. And it's not just the 1 million dollar ones, either.
Some have reporting thresholds as low as $1,000. So, if you don't file taxes accordingly, the government still knows it happened.
Do I Need to Report $15,000+ Gifts If I Didn't Reach the Lifetime Exemption?
Yes. Each year you've given a gift of $15,000 or more, you must file a gift tax return.
What's the Best Option for Sending Money to Offshore Accounts?
We've found Currencies Direct to be the best option (you can read our full review). They're a European company with a proven track record of having their clients' backs. They make the process simple and effective while having some of the best benefits around.
The company works with 120 countries and 60 currencies, with a website optimized for ten languages.
They offer their customers competitive exchange rates and zero other fees for sending and receiving funds. Recipients will have access to your money between 24 and 48 hours.
Currencies Direct is ideal for those wishing to send large sums of money, as their minimum transfer threshold is $100.
Bottom Line: How to Transfer Millions of Dollars Internationally
When it comes to sending large sums of money overseas, you want to ensure you're making the best choices — or it'll cost you.
Pay attention to local and international tax laws to avoid legal trouble and fines. In complicated situations, enlist the help of a tax professional or lawyer.
Do your research to find the best available transfer service. If you choose your bank, be prepared to pay exorbitant fees and experience slow transfer speeds. And don't go for the first money transfer company you find off Google! Take a look at all your options to get the best exchange rates, minimize fees, and deliver your funds promptly.
Currencies Direct Summary:
| | |
| --- | --- |
| 🏛️ Established | 1996 |
| 🌎 Clients | Global |
| 💱 Currencies | 40+ provided |
| 🏢Offices | London, Spain, France, Portugal, USA, South Africa and India |
| 📱 Platforms | Retail presence, phone service, online service and mobile app |
| ⚖️ Regulation | Authorised by the FCA as an Electronic Money Institution (EMI) |
| ✔️ Credit Rating | Level 1 credit rating with Dun & Bradstreet (Highest Possible) |
| 🏆 Awards | MoneyAge award (three time winner of 'Money transfer Provider of the Year') |
| 🌟Reviews | Excellent 4.9/5 from 9,169 reviews on Trustpilot |
| 💰 Fees | No transfer fees |
| 📈 Trading Volume | 550,000 payments last year, trading £7.5bn in currency in 2021 |
| | |

Matt is a veteran of the moving industry, a recognized moving expert and is the founder of Mover Focus. Matt holds a Bachelor of Commerce (BCom) majoring in Finance and Marketing and Bachelor of Arts (BA) majoring in Economics and History. He also has completed the EiM (Essentials in International Moving) course from the FIDI Academy. His advice has been featured in Reader's Digest,  Yahoo Finance,  MSN Money, Business News Daily and The SpareFoot Blog Go. Read more.