Whether you're sending or receiving large amountss of money from overseas, you'll need assistance from a bank or another type of provider. Unfortunately, the former won't always be the most cost-effective or practical when transferring large sums of money between bank accounts.
So, we're here to help you transfer large amounts of money overseas. This guide will cover the benefits of using a specialist money transfer service, how the process works, and why it's worth using over a bank.
Quick Summary of Currencies Direct: Our Recommended Provider
| | |
| --- | --- |
| 🏛️ Established | 1996 |
| 🌎 Clients | Global |
| 💱 Currencies | 40+ provided |
| 🏢Offices | London, Spain, France, Portugal, USA, South Africa and India |
| 📱 Platforms | Retail presence, phone service, online service and mobile app |
| ⚖️ Regulation | Authorised by the FCA as an Electronic Money Institution (EMI) |
| ✔️ Credit Rating | Level 1 credit rating with Dun & Bradstreet (Highest Possible) |
| 🏆 Awards | MoneyAge award (three time winner of 'Money transfer Provider of the Year') |
| 🌟Reviews | Excellent 4.9/5 from 9,169 reviews on Trustpilot |
| 💰 Fees | No transfer fees |
| 📈 Trading Volume | 550,000 payments last year, trading £7.5bn in currency in 2021 |
| | |
Our goal is to become your one-stop hub for all things international moving. You can compare moving companies and find useful resources to assist you when preparing for an international move.
HIGHLY RECOMMENDED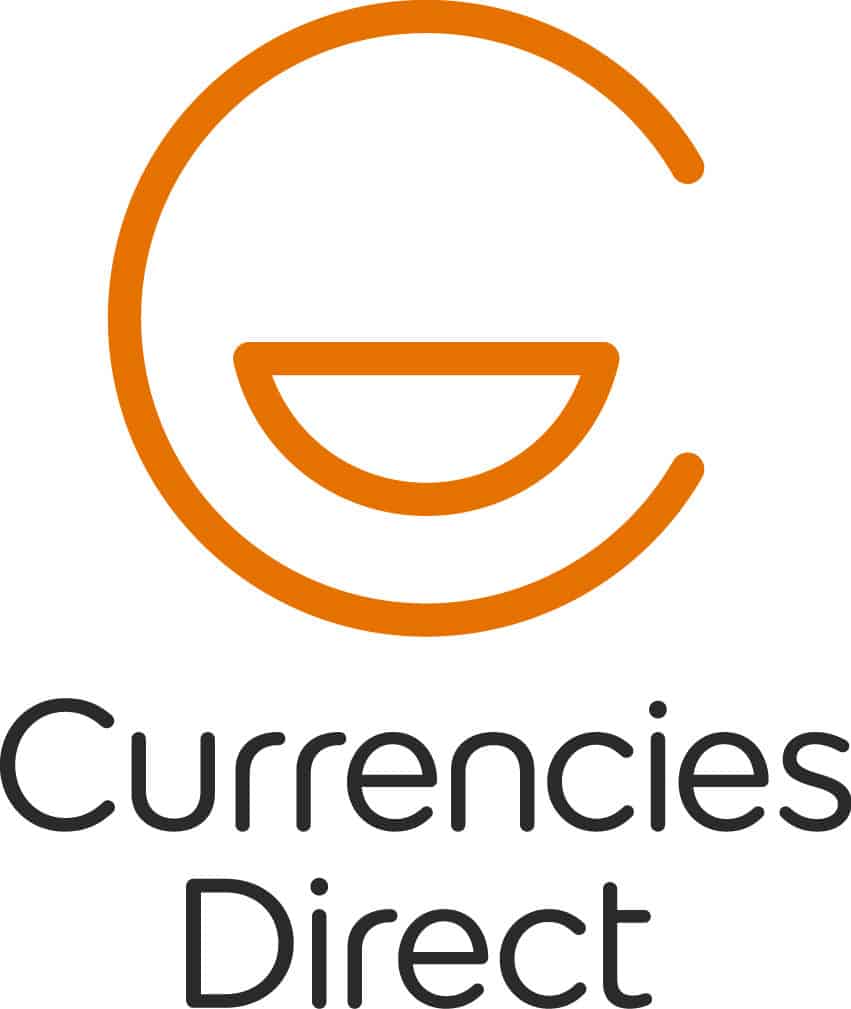 Features:
Highly competitive exchange rates
No transfer fees
Personal currency expert support
You can obtain a free no-obligation quotation from our recommended provider for large transfers.
The Best wayS to transfer large amounts of money OVERSEA
Transferring large sums of money internationally is streamlined with services like Currencies Direct, Clear Currency, and XE Money Transfer. They provide competitive rates and lower fees compared to Western Union and PayPal, maximizing the value of your international money transfer.
Currencies Direct: With competitive exchange rates and no transfer fees, Currencies Direct offers tailored solutions for personal and business transfers. They are our top recommendation for transferring large sums.
Clear Currency: Providing competitive exchange rates and personalized customer service, Clear Currency has become a popular choice for individuals and businesses seeking a reliable and user-friendly platform for international transfers.
XE Money Transfer: Providing fee-free transfers and competitive exchange rates, XE Money Transfer is another strong option for transferring large sums internationally.
Why Should I Opt for a Specialist Money Transfer Service?
Some pros of a specialist money transfer service are that they:
They Offer Lower Fees
Specialist money transfer services live and breathe their trade. They usually don't offer any other financial services, meaning they focus on securing you the best exchange rates available.
A specialist money transfer service, we recommend Currencies Direct, will compare the rates of banks and other financial institutions to lock in the most competitive terms.
A bank transfer can incur a fee (separate from the exchange rate) of up to $40 per time, while a specialist money transfer service may be able to waive this fee altogether for high-value transfers.
If you want to send and receive large amounts of money from overseas frequently, you should enlist a specialist money transfer service as your provider. Doing so can save you hundreds or even thousands of dollars in fees per year – it's fundamentally the cheapest way to send money overseas.
They Work Efficiently
Depending on the specialist money transfer service you work with, your transfer may go through within a few hours. Be prepared to wait up to 24 hours for a transfer to go through, but the speed a specialist money transfer service offers is unmatched compared to that of a bank.
They Are More Transparent
Because of their niche offerings, specialist money transfer services strive to make their fees as transparent as possible to potential customers. They spell everything out upfront to prevent unwanted surprises down the line.
These transparent practices are breaths of fresh air compared to those of banks. Banks tend to bury the terms of exchange rate margins within their terms and conditions. Often, customers only discover banks' outrageous fees long after a bank transfer goes through.
They Provide Security
One criticism of specialist money transfer services is the seeming lack of security. Banks tend to get more credit when it comes to completing safe international money transfers, but specialist money transfer services are just as secure.
The majority of specialist money transfer services are trustworthy providers that receive authorization from the appropriate regulatory bodies.
The exact regulation will depend on the country that the service operates in. However, some common governing authorities that regulate the industry include the:
FinCEN (Financial Crimes Enforcement Network) in the US
They're More Convenient
Making the trip to your local bank is tedious and an unnecessary hassle.
Most specialist money transfer services offer their services online. You can send or receive large amounts of money from overseas without ever leaving your house — simply hop onto your desktop computer and initiate transfers as you please.
You won't ever have to wait for business hours to begin, as you can make a transfer in the middle of the night if the need arises.
Some specialist companies even have a user-friendly mobile app, meaning you can repatriate funds as necessary from your phone or tablet.
As another layer of convenience, you can use an online service to set up regular payments. This benefit will come in handy for many purposes, as it will allow you to:
Repatriate funds to family members overseas regularly
Pay the mortgage on your international vacation home
Handle recurring educational fees
You'll never have to waste your time making tedious manual payments, and you can cancel the recurring payments at any time if you no longer need to make them.
You Can Customize Your Experience
Sending and receiving large amounts of money from overseas isn't a task you should take lightly. Completing the job incorrectly can cause you to lose funds, pay high fees, or send the funds to the wrong recipient.
You should have a knowledgeable company on your side. Specialist money transfer services offer expert guidance and a tailored experience to help you feel more confident about repatriating money safely and efficiently.
Common Reasons for Sending Large Amounts of Money Overseas
Before we discuss the benefits of using a specialist money transfer service, you might be wondering, Why do I even need to send or receive large amounts of money from overseas in the first place?
You likely won't be in the same area for your entire life. Many factors can summon you elsewhere globally, and you'll need money to realize your financial and personal goals.
Here are some of the most common reasons people need to send or receive large amounts of money abroad:
Relocation
Are you an ex-pat — a person living in a country different from their native one? If so, you may have migrated to your new country for any number of reasons. You may have found work as an artist, skilled worker, or another type of professional in a different country and are exploring lucrative opportunities.
Or, if you're newly retired, you may have become an ex-pat by traveling to your new dream island.
Some ex-pats only plan to stay overseas for a couple of years, while others plan on making their new living situation more permanent.
In any case, you'll need a significant amount of money to fund your new lifestyle.
Buying a Property
Is your life savings sitting in your bank account ready to be spent? If so, you might be interested in transferring large amounts of money abroad to make an international real estate investment.
Once you make this investment, you can rent your new property out to native residents and create a steady stream of passive income. Alternatively, you can renovate it to get it ready for the market again or modernize it to make it liveable for you and your family in a few years.
Covering Tuition & Other Educational Costs
Depending on what you want to study, you may need to seek training overseas. Often, an international education will provide students with high-quality professors, resources, internships, and experiences that they can't find domestically.
Repatriation of funds might be on your mind if you need to finance your (or a family member's) international education. Tuition, room and board, textbooks, and other educational costs aren't cheap, so you may need to transfer large amounts of money overseas.
Completing Business Transactions
Sometimes, a company owner can conduct business satisfactorily in his home country. However, depending on the industry you're in, you may need to grow your operations in a different country.
Repatriating money can allow you to expand into a lucrative market, open an international office, or purchase hard-to-find inventory. All of these ventures aren't small-scale, so you'll need a large amount of capital to finance them.
Completing an Inheritance
If you receive an inheritance from a deceased relative who lived abroad, you'll need to complete the repatriation of funds to access the money. Otherwise, you can't spend the funds in your current country.
Other Reasons
Some other common reasons people need to transfer large amounts of money abroad are to:
Fund an international vacation
Pay for events like weddings, religious festivals, or funerals
Support family back home
Purchase a car
The Logistics of Repatriating Money: How to transfer large amounts of money overseas?
Repatriating money involves converting a foreign currency into a local currency. This process will differ depending on your native and current country. For example, an American ex-pat looking to move to Portugal will need to repatriate funds from the American dollar ($) to the Euro (€).
Some key factors that will impact high-value repatriations of funds include:
The exchange rate you're offered: A variance of only 1-2% in the exchange rate can hike up the cost to repatriate funds, especially if you're transferring millions of dollars overseas.
Commissions and extra fees: Some providers will impose commissions or extra fees, meaning the recipient can receive much less than the supposed total amount of money.
Withdrawal and deposit payment fees: Some banks and other financial institutions will levy withdrawal and deposit fees. These fees can lower the total amount of money the recipient gets and postpone transaction times.
Fixed-rate transfer fees: Some foreign exchange providers will impose fixed-rate transfer fees. However, many of them will waive these extra costs for high-value transactions.
Using a Specialist Money Transfer Service vs. a Bank
Now that you understand more about transferring large amounts of money overseas and the logistics behind it, you may feel ready to commence the process.
However, you shouldn't be so quick to get started. You must first choose an appropriate provider to assist you. The two most common options are a bank and a specialist money transfer service.
From our experience, a specialist money transfer service reigns supreme. We'll explore why below:
Why Should I Skip the Bank?
Some cons of working with banks are:
They Operate Slowly
Bank transfers tend to be pretty slow, as they can take anywhere from one to five business days to go through.
They Only Offer Bank Transfers
Many banks only allow you to repatriate funds to another bank. This kind of transaction is fine if you send money to a family member or someone you know personally. However, it's not ideal for a larger-scale business transaction. In this case, you'd have to send money to a personal bank account overseas and then move your funds accordingly.
When you select a bank as your money transfer provider, you won't be able to elect the receiving account of your choice (outside of another bank account).
They Only Work with Existing Customers
In most cases, banks will only work with existing customers. If you don't already have an open account with the bank of your choice, you'll have to go through the time-consuming process to become a customer.
They Require More Information
Repatriating money through a bank will involve an in-person visit. Once you're at your financial institution, you'll have to provide the necessary documentation to verify your identity for every transaction you want to complete. Every transfer will also require paperwork, which can take a lot of precious time out of your day.
They Charge Higher Fees
Bank transfers, especially international ones, often incur very high fees. You may not learn about these fees until later on in the process, as banks won't spell out the fees for you upfront.
They Don't Specialize in International Money Transfers
Banks are complex financial institutions with many offerings — they distribute loans, allow customers to maintain savings and checking accounts, and provide certificates of deposit. Banks don't specialize in international money transfers, so it's not in their best interest to provide the highest quality services.
ALTERNATIVE METHOD TO Transfer Large Amounts of Money Abroad (& Why You Should Avoid Them)
Banks and specialist money transfer services aren't your only options for sending and receiving large amounts of money from overseas. However, they're often the most reliable.
Below, you can read about some other methods and why we don't recommend them.
Prepaid credit cards: The sender will load a prepaid debit card with cash, and the receiver can withdraw the money using the card. However, this method often comes with pricey activation and monthly fees.
Large wire transfers: Wire transfers are generally safe, but it can be difficult to verify if the funds actually went through if you're sending the money to someone you don't know well.
A mobile app like PayPal: PayPal lets you send money abroad and change your preferred currency, but you'll often hit daily limits on how much you can send.
Conclusion: How to transfer a large amount of money
Overall, transferring large sums of money internationally isn't complicated with a specialist service. While a bank transfer comes with high fees and longer delivery times, a specialist service is more convenient and just as secure.
Ready to get your large money transfer wired today? You might want to take the time to research a specialist service — it could save you more money and time than you think.
Do you need to send or receive large amounts of money but don't know where to start? Reach out to Currencies Direct for personalized money transfer services today! The repatriation of funds is their specialty, so you can rest assured they will handle your hard-earned cash appropriately and get it to where it needs to be.

Matt is a veteran of the moving industry, a recognized moving expert and is the founder of Mover Focus. Matt holds a Bachelor of Commerce (BCom) majoring in Finance and Marketing and Bachelor of Arts (BA) majoring in Economics and History. He also has completed the EiM (Essentials in International Moving) course from the FIDI Academy. His advice has been featured in Reader's Digest,  Yahoo Finance,  MSN Money, Business News Daily and The SpareFoot Blog Go. Read more.